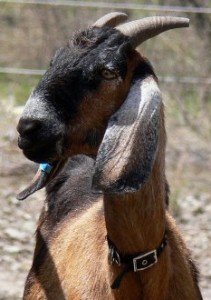 Welcome to Snogrock Goats; we are a small 25 acre eco sustainable farm on the mountain of Bocoble, approx 30 kms from Mudgee NSW.
We have 15 acres of natural Australian bush and have found this to be the perfect place to rest and raise our milking goats.
While we are not registered as organic, we use no poisons or chemicals in the growing of our produce and adhere to the principals of companion growing for our herb and vegetable produce. For our goats we use the same principals, therefore to control parasites we grow and use wormwood (a vermifugal herb) along with several other natural minerals to keep them healthy and happy.
We have been working on getting the best milking herd for almost three years. Flash the soap-maker has a scientific background and Laray has a natural therapies background. We have combined our strengths and the products that we are now producing are the end result of our "tree-change experiment". We hope you enjoy using them as much as we enjoy making them.